My initial attraction to the Graves-Beck framework was its  approach to sustainable solutions through its ability to  address the "systems" problem as an integral part of any solution. As someone who worked with business systems and studied macroeconomics, solving problems with dysfunctional systems and institutions  was far more important to me than the exclusive focus on personal growth, which tends to be the domain of many change agents.
Over the years I have also learned the importance  of an essential catalyst in the design of these solutions. A concept originally created by Dr. Ichak Adizes called CAPI, the Coalescence of Authority Power and Influence.  Don Beck's genius brought these two concepts together to create one of the most effective, but underrated  tools for Large-Scale systems change called MeshWORKS. The concept was used to help South Africa transition from Apartheid and in our 5-year effort to try to bring peace to the Middle East.
When asked why these concepts weren't being taught to world leaders, Dr. Beck often responded with "Often times these are systems within us that appear naturally in the minds of Second Tier thinkers."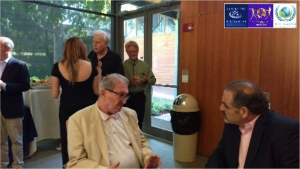 On April 20 in Dallas Texas, participants in the Spiral Dynamics Summit on the Future will hear from  our special guest Lawrence Bloom who represents the embodiment of these natural Second Tier systems;  the delicate balance between the Adaptive Intelligence within each and everyone of us, and a deep understanding of how to change systems. Mr. Bloom will share with us his life long work and what it takes to provide effective global leadership at a time when the world seems to be very divided. Below is the announcement on the event website about Mr. Bloom's Special Guest appearance.
I hope you can join us and learn from all of our exceptional speakers about what it takes to be an effective leader in these times of uncertainty. Become the embodiment of CAPI and systems change. Please click here to visit the event website for a full list of summit topics and for more information.
____________
Dr. Beck and I are thrilled to announce that Lawrence Bloom will deliver the keynote speech at the start of our conference.
One of the most effective measures of Second Tier Leadership in the world today is a person's ability to possess what we call CAPI, the Confluence of Authority, Power and Influence. All 3 elements must be present to affect global change in a significant way. Among friends of the Spiral Dynamics community, no one advocates for this systemic approach more vigorously than our special guest and Keynote Speaker Lawrence Bloom.  In his opening remarks at the Spiral Dynamics Summit on the Future, Lawrence will set the tone for us all to experience what it means to be the embodiment of Second Tier change in action.
Lawrence Bloom¬†serves as the¬†Secretary General of Be Earth Foundation, a United Nations Intergovernmental Organization in collaborative status with the UN'Äôs Economic and Social Council. This foundation helps educate nation states around renewable energy and generally to enable them to achieve their Sustainable Development Goal agendas. He¬†is also the¬† Chairman of the DAKIA Institute which is dedicated to empowering local leaders and the community to lead positive change for themselves and their world long after they are gone. The Institute employs one of the most effective and often overlooked "systems approach" to sustainability. This approach is explained on the institute's website: "because we are a different kind of organization, we use a different kind of name, 'ÄúSystainability'ÄĚ with a 'Äėy'Äô 'Äď for Systems Solutions for Sustainability."
Lawrence is also the Chairman of Be Energy, a bio-energy company committed to serving planet, people and profit.   Lawrence was appointed the first Chairman of the World Economic Forum at Davos, Global Agenda Council on Urban Management. He is the former Chairman of the UN Environmental Program, Green Economy Initiative, Green Cities, Buildings and Transport Council.