This post is in response to a simple question posed on social media regarding the definition of the Healthy expression of the Red value system. Like many questions of this general nature that were posed before, debates and opinions went on for days with responses as varied as each commentator's personal experience with Red, or what appeared to be Red in their world. In the end, this was a highly engaging debate that allowed many members of the online Beck-Graves group to engage in conversation for the very first time. The purpose of this post is to offer some nuanced analysis, reminders and some possible tools that practitioners might take to their field of work or personal lives.
One of the very first things I caution people about at trainings and presentations is not to diminish the effectiveness of the theory by superficially placing labels like colors and levels on people or systems. This is how we diminish the merits of the developmental model and bring an end to any in depth analysis to a given situation. Instead of asking for an absolute description of a particular color or level that solicits so many varying answers, the question should always be: How does that developmental level show up in your daily life, acknowledging the dynamic nature of the framework.
People's vMEMEs don't exist in a vacuum as permanent psychological states or stages. They are complex profiles that can range from Purple to Turquoise in a span of a single day. While one or more value systems are active in us at any given time, the rest lay dormant waiting to be activated in response to environmental stimuli. Yes, Life Conditions the one important factor that was greatly overlooked in the online debate remains the essential element that makes the model operational. This is the other half of the ECLET/SD framework that determines a person's resilience to respond and adapt effectively. It guides the upshift, the downshift and diagonal movement of the psychological health of an individual or a system.
It is important to understand that Red today, healthy or unhealthy is not a permanent stage even in people where the Bio/Neuro Triad of the theory (the hardware of the brain) is limited to the Red vMEME. We live in complex Life Conditions that are constantly bombarding our brain to the point that if it can't create new hardware, it develops mirror neurons that can mimic higher value systems; a fake it till you make it type of assimilation. Additionally, what might look like healthy red to a Second Tier observer, might be viewed as extremely unhealthy Red to Blue or Green, or even a healthy version of Orange. What is important is to know when healthy Red is needed, and more importantly, where to direct its energy when its not. When we take these factors and place them into the non-theoretical complexity mentioned above, analysis becomes far more effective.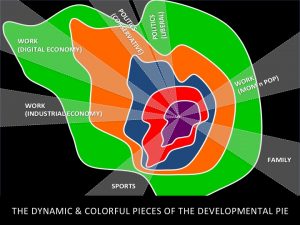 I often use this graphic in my presentations to illustrate the dynamic nature of how the different developmental levels may stack in a psychologically mature person on any given day when in different Life Conditions.
SPORTS EVENTS: DOMINANT: RED & PURPLE.
FAMILY: DOMINANT: PURPLE, BLUE & GREEN.
WORK AT LOCAL SMALL BUSINESS: BALANCED LOW DENSITY/COMPLEXITY ACROSS ENTIRE MEMEPLEX.
WORK INÂ  INDUSTRIAL ECONOMY: DOMINANT: ORANGE
WORK IN DIGITAL ECONOMY: DOMINANT W/HIGH DENSITY: GREEN & ORANGE
CONSERVATIVE POLITICS: DOMINANT: ORANGE & BLUE
LIBERAL POLITICS: DOMINANT: GREEN & BLUE
It's important to keep in mind that these are hypothetical value systems compositions that are intended to convey the complexity of the entire vMEMEstack that changes whenever challenges from Life Conditions change.
So, when do we see a particular expression like healthy Red dominate? Well, it all depends on the situation. In the Western world today, Red bravery alone is rarely needed in a permanent way in leadership due to the existence of higher complexity. Should that higher complexity become toxic and resistant to emergence, the system will choose a Red leader to detoxify the blockages in the memestack. Unfortunately, Red's best capacities are in undoing higher systems, or dominating lower systems. It cannot rebuild after the system is detoxified. That job is for higher systems. Which higher systems and what are their contents? That depends on those ever changing and often complex Life Conditions.